Pablito y su mezcla latina
| ITALY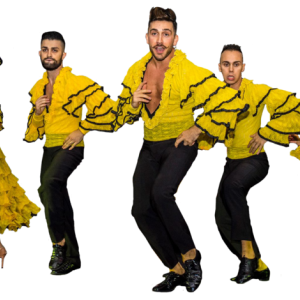 Salsa
By the talent and natural charisma of a young teacher born something beyond the natural function of a teacher: to create with his students a new reality in order to grow together in the dance world.
This fact, from 2006, is called: "PABLITO Y SU MEZCLA LATINA", the dance company directed and choreographed by Pierpaolo master STARRY (PABLITO).
The group began performing in 2007 in various areas, with the first choreography debut:
the "MALANGA".
In the same year they won the CSEN regional championship for the category groups.
In May of 2008 with the second choreography "LASER SCENE", trampling the first real stage flocking to "Eventopeople festival" for the group that will become a 'favorable opportunity to stand out in the Caribbean world.
Also in 2008 he won the victory in Montecatini Terme, the CSEN national championship for the category groups.
In May 2009 he stages "KILL BILL" performing with the choreography in several Italian places, taking part in the event salsero "Cruise Movida" in Barcelona and confirming the title National CSEN.
In 2010, the group achieved a resounding success with the show "MEZCLA NIGHT SHOW", who offers him the opportunity to become known in other Italian regions like Campania, Molise, the 'Abruzzo, Sicily and Tuscany and also to 'abroad during the international congress of salsa in Koper in Slovenia.
In the same year they participate for the third consecutive time at '' Eventopeople festival "and obtained by the organization of this event, recognition as a" GROUP REVELATION 2010 ".
In 2011 by the extraordinary creativity of Pablito teacher, she founded the choreography "300", a real show inspired by the eponymous film, which saw the group mature and enriched with new style.
In February, participating in Florence at the well-known dance festival "DANCE AT THE FAIR" getting the victory in the category "Show caribe".
Nell 'in August of the same year, the group takes part in the competition for emerging groups "VALETODO", designed by the famous Calabrian entrepreneur Vincenzo D'AMATO and the famous dancer and choreographer Fernando SOSA, a true pillar of the Caribbean world.
From the later contest the group comes out winner with a landslide result given by the jury unanimous consent, formed by the promoter of the most important European congress of salsa.
From here starts a new adventure with the first real tour in Spain, Germany, Bulgaria and Turkey.
In the same year the group PABLITO Y SU MEZCLA LATINA, is selected for participation in the 2012 edition of the program: "ITALY'S GOT TALENT" aired in prime time on CHANNEL 5.
In May of 2013 the group took part in the Latin Dream Film shot in America and soon in the best film
Currently the group consists of 6 elements with different characteristics, but well matched to each other, they do it, they can attend a "different mezcla."
Members:
Pierpaolo Stellato (Pablito): founder, teacher, choreographer and dancer.
Francesca Gullo dancer.
Rosaria Aurilia: dancer.
Arturo Elias: Dancer.
Marco Lio: Dancer.
Denise Zicarelli: dancer

Watch on youtube