MAYCHEAL & MAYRA
BEIRUT | LEBANON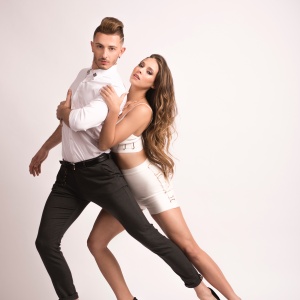 Bachata
M&M Dance
Maycheal from Lebanon/Armenia and Mayra from Argentina/Spain started dancing together 3 years ago , becoming one of the new top bachata artist worldwide, traveling around the world to all the continents spreading the love of Dance.
The journey of dancing started in very early years in the life of both of them. Mayra at the age of 5 years with classical ballet and flamenco, passing through different dance styles like contemporary , jazz , Arabic dance, hip hop and disciplines such as gymnastics and professional iceskating.
Maycheal at the age of 13 years old started his professional career as Latin & ballroom Dancer, achieving the title of champion in Lebanon several times. His main focus was the competition of the 10 different dances that makes sport dance so high in technique
Maycheal & Mayra mixed their backgrounds in Dance , trying to give a different view to bachata , developing their own style and leading technique. Also they give an important place to the emotional part of the dance, the expressions and connection with the partner. Tricks and dips are a famous item in their dance videos , making the people amazed in their improvisations
They are the owners of M&M Latin Festival ( Lebanon ) , MAYactive wear ( their own clothing brand) and M&M Latin Night ( weekly in Lebanon).
Watch on youtube