DJ KILLO
SEVILLA | SPAIN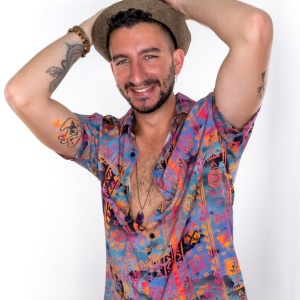 Bachata
Born and raised in Sevilla, Spain, Juanfe Carballido Abril comes from a family of musicians so he grew up surrounded by music.
However, it wasn't until 2011 that he crossed paths with Latin rhythms and immediately fell in love with them. Driven by the curiosity for this type of music and the amazing atmosphere of these events and people he started taking dancing classes. He focused mostly on salsa at first, showing a deeper motivation in understanding the roots and origins of this genre, learning and getting influenced by his idols Marc Anthony, Tito Rojas and Gilberto Santa Rosa…But little by little he developed a growing interest and passion for bachata also.
Moving to Madrid in 2020 to work as a general store manager would be the beginning of DJ Killo and would change Juanfe's life forever but he had no clue yet. One day, when living in Madrid, his friends asked him to play some music at a party, just as a favor, then he did his magic and everyone loved his music so much as well as his good vibes. That night Dj Killo had been born. After that party he realized how much he enjoys setting the right atmosphere by playing the right song at a time and making people feel good…So the decision was already made that music would be his life and first priority since then. Very soon he was playing his music in the best salsa and bachata night clubs and events from cities like Madrid, Barcelona or Málaga.
Nowadays, Dj Killo is becoming more and more popular within the national and international dancing community. His final goal is to spread the best music and energy to everyone at his events, in other words, he is a "happiness provider". His passion for music and social skills make his events unique and magical.